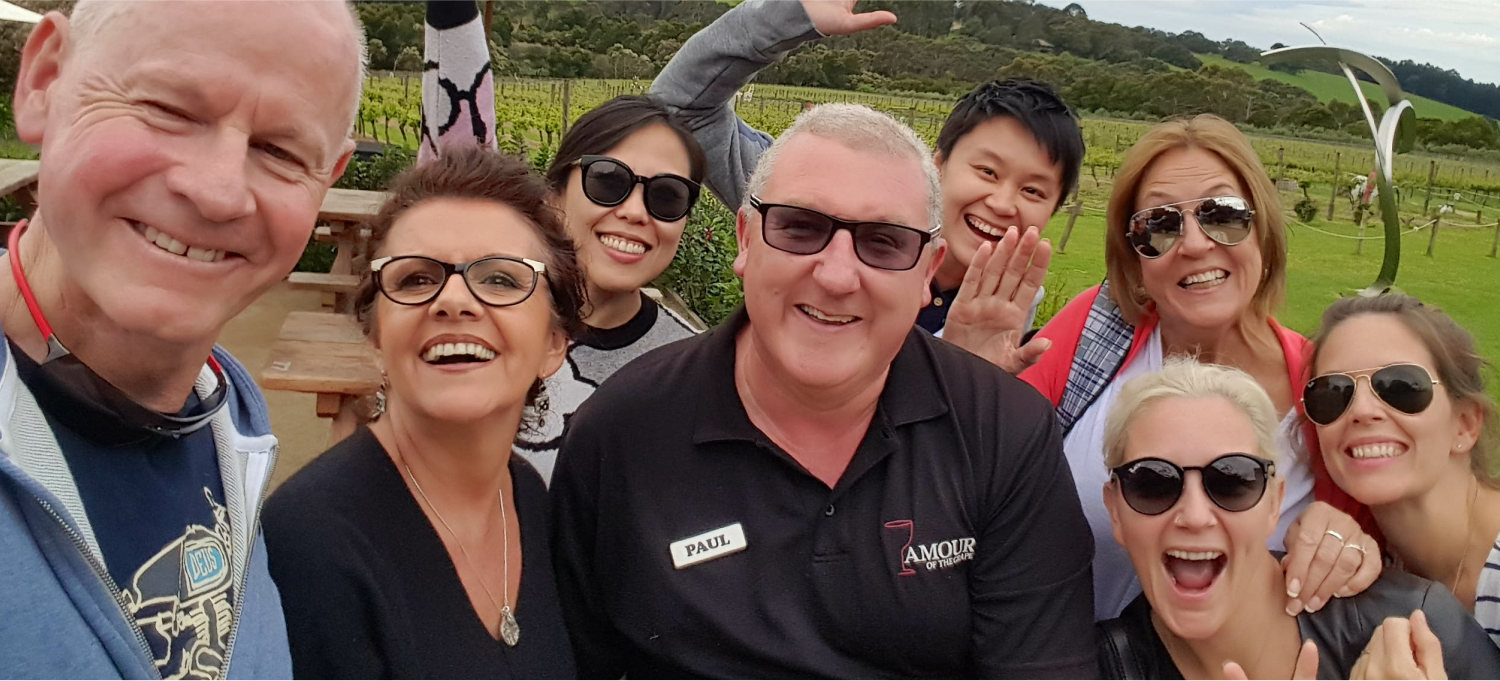 CHECKOUT OUR REVIEWS
  
HERE IS WHAT OUR GUESTS HAVE SAID ABOUT AMOUR OF THE GRAPE TOURS – NOW RATED AS THE MORNINGTON PENINSULA'S NUMBER ONE SMALL GROUP TOUR COMPANY AS VOTED ON TRIP ADVISOR.
"Amazing day for a special birthday. Paul was a absolute treasure full of local knowledge Lots of fun."
From Jennie on Google, visited May, 2018
"Paul absolutely made our day being such a great host for myself and 3 girlfriends on a wine tour. He was very informative, friendly and took us to some really beautiful wineries. We felt so lucky to have had him as a driver as he really helped make the day very memorable."
From Samara on Trip Advisor, visited April, 2018
"Paul was an absolute fantastic host and driver. He took us to lovely small family-run wineries which were wonderful. Very friendly and chatty."
From Nat on Trip Advisor, visited April, 2018
"Really enjoyed our day trip with Paul. Easy online arrangements, on time pick up at our B and B in Mornington and clean, safe transportation. We were the only guests on this tour day. Visits were to a range of wineries from tiny to big. No pressure to buy wine but also easy to do so. Included lunch with a glass of wine was delicious. Highly recommended Paul and Amour for couples or small groups."
From Anne on Trip Advisor, visited March, 2018
"Hands down the best tour guide to explore the region. Paul is wonderful – so friendly and knowledgeable. Perfect host for a visit to the beautiful Mornington Peninsula
From Liz Wilmot on Google, visited February, 2018
"Cannot say a big enough THANK YOU to Paul for such a truly wonderful day tour of the gorgeous Mornington Peninsula! With an amazing lunch included this has to be the best way to see the wineries in the region. We'll definitely be back and booking with Paul again."
From Liz on Facebook, visited February, 2018
"What an awesome day, what an awesome host! Paul was knowledgeable and friendly, and took us to four great wineries (delicious lunch included) and a cider brewery, with a stop off to get nibbles on the way home! Thanks Paul – highly recommend and will be sure to do another tour in the near future."
From Kristen on Trip Advisor, posted February, 2018
"We couldn't have asked for a better winery tour! Paul was so lovely and provided us with such a reliable, fun and detailed day, giving us extensive amounts of information about each winery! I would highly recommend Amour of the Grape Tours to provide you with a wonderful and exciting day! You won't regret it!"
From Nicole on Facebook, visited February, 2018.
"Paul you are amazing…! – the most enthusiastic, positive and passionate person I've met!
Thank you so much for making our day such a memorable experience. The wineries you took us to were lovely and you couldn't be more accommodating for us."
From Anna, Kelly, Kylie, Kat, Em and Janie, posted on Trip Advisor, January, 2018
Thank you so much to Paul for taking my husband & I on a winery tour around Mornington Peninsula then onto Philip Island for the Penguin Parade. It was a mammoth day out but lucky for us we had great weather & of course, Paul as our driver & guide for the day. From the off, Paul was extremely friendly & booking was really easy & efficient via email. On the day itself nothing was too much trouble for Paul & he took us to some incredible vineyards before driving us to Phillip Island Penguin Parade, arranging our entry – which was already pre paid & booked via him – and he collected us afterwards at around 10pm and dropped us home. If you are looking to do a winery tour in this incredible region then don't hesitate to book Paul as your guide – it was a highlight of our whole honeymoon."
From Leanne on Trip Advisor, posted February, 2018
"I don't usually leave reviews but I had to because Paul is an absolute legend! We had the best day touring the beautiful Peninsula wineries with him. He is incredibly knowledgeable and really wants to make sure you have a great time – which we did. We were best mates by the end of the day. Thanks Paul for an amazing time!
From Lauren on Trip Advisor, posted November, 2017
"I can't recommend Amour of the Grape highly enough. Paul is the best tour guide I've ever had and the best introduction to Australia we could have hoped for! What a great day, thanks so much!"
From Megan on Facebook, posted November, 2017
"Absolutely awesome wine tour. Paul was a fabulous guide, incredibly friendly, accommodating and knowledgeable. This was a girls day out and was made all the better for booking with Paul, I will definitely be using him again in the future and recommend him to anyone looking for a hassle free wine tour on the peninsula."
From Amy G on Trip Advisor, posted September, 2017
"If you are going to book a wine tour look no further than Amour of the Grape Tours!!! We were a group of 7 and we thoroughly enjoyed our day drinking wine, gin & cider. Thanks for having us Paul."
From Haych on Trip Advisor, posted August, 2017
"We had a group of six of us staying on the Peninsula and had an absolutely fantastic day! Paul's energy and enthusiasm was infectious; would happily book a tour with him again."
From Abigail on Google, posted June, 2017
"Paul was an absolute gentleman and gave us a great day! Would highly recommend this great man! Wouldn't find a better bloke!"
From Anthony on Trip Advisor, posted March, 2017.
"Paul is AMAZING! He took us on a tour for a Hens Do and we honestly had the best day ever. There were 7 of us girls and he made us laugh the whole day. We also learnt so much about wine during the day too. 5 vineyards and lunch at one was perfect!"
From Hayley on Trip Advisor, posted January, 2017
"What an amazing tour this was. We can't thank you enough Paul, you made the day so entertaining and provided us all with such good laughs from start to finish. We enjoyed every moment from the beautiful wineries to the excellent atmosphere you created which made the day even more special for us girls. It's clear that you are very passionate & knowledgeable about what you do. I would highly recommend this tour. Thank you again."
From Simone on Facebook, posted January, 2017
"I could not recommend this tour more. Paul does a fantastic job, he makes you feel so welcome and goes out of his way to make sure that you are happy. His knowledge on the local area is just fabulous. All the winery that you go to are so friendly and so welcoming. The food is just amazing. Melts in your mouth. Thank you Paul for a fabulous day."
From Vanessa on Trip Advisor, posted December, 2016
Amour Of The Grape winery tours was absolutely AMAZING, best day with the best guide Paul!!! He is a legend, had us laughing and smiling all day!!! All the winery's were beautiful and stunning! Already planning a trip back with Paul and can't wait to do it all over again!! Still smiling from the whole day!!"
From Emma on Trip Advisor, posted November, 2016
"Thank you to Paul who is a ripping human being. We had the best time ever on our first Winery Tour. Paul knew his stuff, was happy and friendly, and was able to provide a relaxing and enjoyable day. Shout out to the Irish legends also, who made us feel a part of their crew! Love Calvin and Melissa"
From Calvin and Melissa, posted November, 2016
We were six friends having a girls weekend away in Melbourne. We did the Hot springs tour, which included lunch at a winery which was delicious. Thoroughly recommend this tour. Paul was great fun super friendly, professional & on time. The car was clean and comfortable. Definite value for money. We enjoyed every aspect of the day.
From Simone on Trip Advisor, visited November, 2016
"Paul accepted a last minute booking for 6 of us and totally saved our bacon in the Mornington Peninsula. He was good company, took us to some excellent wineries and catered for the needs of our group. He went out of his way to make it all about fun and even took us to do our shopping after the wine tour. We would definitely look him up again if we are in the region."
From Stefan G on Trip Advisor, posted November 2015.
"Paul was very knowledgeable and there were 7 ladies and he treated us with respect and always helped us in and out of the bus. Was fabulous to have the tour to ourselves and lunch was wonderful and all the boutique wineries we visited was much better than the big tourist ones. Well worth booking. Great value."
From Deb on Trip Advisor, posted October, 2015.
"Thanks Paul! We had such a lovely day.
We thoroughly enjoyed wine tasting and tapas lunch at The Cups Estate followed by our relaxing afternoon at the Peninsula Hot Springs. We really appreciate the way in which you took care of all the details, to ensure we had a wonderful afternoon. "
From Kate on Trip Advisor, visited June, 2014
We would highly recommend this tour group."We booked a full day winery tour of the Mornington Peninsula with Paul. Great day out, Paul took us to about 5 wineries, and we stopped for lunch at one of the wineries. Such a lovely way to sit back and enjoy the day!!! Paul was fantastic, full of information about the area, and the wineries!! He also made a few other stops along the way so that we could take photos and admire the stunning views! Definitely a must do, when you are in the area!!!"
From Judy on Trip Advisor, posted October, 2013