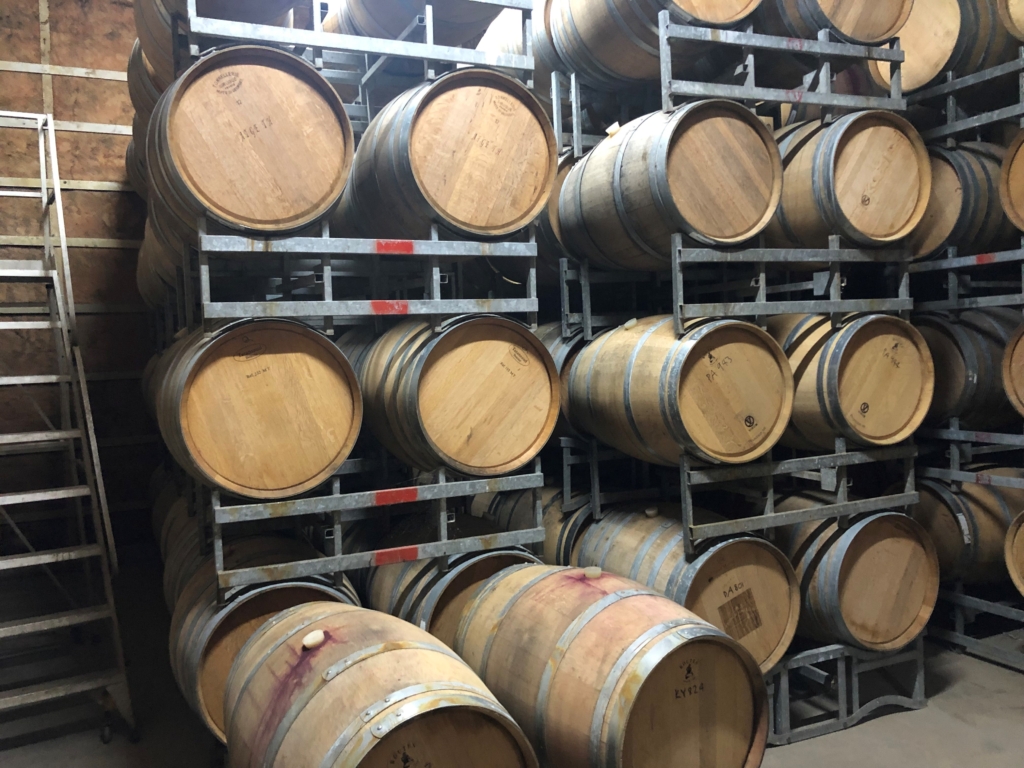 AMOUR OF THE GRAPE
Winery Tours & Transportation Mornington Peninsula Tours
Want to explore the beautiful Mornington Peninsula. Don't even think about driving yourself, why not spoil yourselves and do a tour with Amour Of The Grape Tours – the Mornington Peninsula Small Group Tour specialists.
We are the number one ranked Mornington Peninsula Small  Group Tour company on Trip Advisor and now rated in the top ten percent of attractions world wide on Trip Advisor.
Amour Of The Grape is a Licensed Tour Operator specialising in small, intimate tours of the Mornington Peninsula. Run by Peninsula locals Paul and Liz Gough, who will share their knowledge and passion for this beautiful region and ensure your visit will be one to remember.
We specialise in wine tours but also offer a huge range of tours and can even tailor a tour to suit your exact requirements.
Catering for small, intimate groups – a minimum of two and a maximum of seven. (Groups of up to 11 available on Saturdays). Our groups will be picked up from their accommodation or home and chauffeur driven in a modern Toyota Tarago or Toyota RAV4 Hybrid, climate controlled with plenty of storage space for your personal belongings and any purchases you make on the day.
Why not relax and enjoy the Mornington Peninsula in comfort in a small group so you get personalised attention without the stress of driving? Contact us to book your next tour. Private tours only guaranteed by request at additional cost.
To book phone Paul on +61 (0)414 704 801
CHECKOUT OUR REVIEWS
  
To book phone Paul on 0414 704 801 or EMAIL US
Exciting news. Now taking bookings for spring and summer, including Melbourne Cup long weekend and Christmas school holidays.
Spring is here and that means a return to warm weather and longer days.
And a new wine season begins as our vineyards get bud burst and the spring leaves herald the start of another vintage.
Who wouldn't fancy a glass of world class Pinot Noir, Chardonnay, Pinot Gris or even some fabulous sparkling wine  amidst the spring sunshine and stunning greenery of the Mornington Peninsula at this time of year.
This is a great time to treat yourselves to a Mornington Peninsula Wine Tour or visit our world famous Peninsula Hot Springs to bathe in the clear, warm ,thermal water in ideal weather conditions.
And we are celebrating our tenth anniversary at Amour Of The Grape Tours – the Peninsula's number one small group tour operator – as ranked on Trip Advisor.
We are available every day throughout spring and our group discounts for groups of three or more apply every day, even during school holidays, while we also have weekday discounts for couples.
We cater for small groups of two to seven (Up to 11 on ON SATURDAYS) for a fun, personalised, bespoke tour experience.
To book phone Paul on 0414 704 801.
Great wine, great food, great prices, great service stunning scenery and a fun day out at an affordable price when you book a tour with the Small Group Tours specialists on the Mornington Peninsula.
Look nowhere else for Mornington Peninsula Small Group Tours.
Gift Vouchers also available for our Mornington Peninsula wine tours and Hot Springs Tours and can be used any time. They are the perfect present for loved ones.
BOOK ONE OF OUR RELAXING TOURS INCLUDING:
*All day Mornington Peninsula wine tours starting from just $150 per person.
*Check out our weekdays special. $10 per person off our regular price for a couple for local Mornington Peninsula pick-ups (excluding long weekends and from Dec 26 to Jan 26).
*Ranked number one for small group tours on the Mornington Peninsula on Trip Advisor and ranked in the top ten percent of attractions world wide on Trip Advisor. Winner of The Travellers' Choice award on Trip Advisor for the past eight years.
Tour includes pick-up and drop-off from your home or accommodation, as well as as a yummy multi course lunch and a glass of wine each at either Mont Rouge Estate, Pier 10, Montalto or Green Olive plus visits to four to five wineries including the above wineries and/or The Cups Estate, Port Phillip Estate, Eldridge, Fenian, Abelli, Ten Minutes by Tractor, Elan, Myrtaceae, Kyberd Hills, Ocean Eight, Red Hill Estate, Moorooduc Estate, Phaedrus, Stoniers, Polperro, Pt Leo Estate, Yabby Lake, Quealys, Kerri Greens, Stumpy Gully, Principia and Nazaaray.
Other wineries available on request.
Optional visits to one or more of Mock Red Hill Cider, Mr Little Cider, Main Ridge Dairy, Boatshed Cheese, Bass and Flinders Gin Distillery, Peninsula Gourmet Emporium, Red Hill Cellar and Pantry, MP Chocolates, Cocoa Rouge, JimmyRum Distillery and/or Red Hill, Jetty Road or St Andrews Beach Brewery also available as part of our public or private wine tours.
*Tours run every day with weekday discounts available for couples and group discounts for groups of three or more available every day.
*Min four people for Melbourne CBD and inner suburban pick-ups on weekdays.
*Larger groups of up to 11 available on request on Saturdays.
*Private tours and specifically catered tours, including lunch at a venue of your choice, also available upon specific request at time of booking.
*A safe, reliable pre-booked chauffeur service day and night to Mornington Peninsula restaurants and wineries for lunch and dinner as well to weddings and functions. Evening trips must be pre-booked by 6pm. Prices start from $30 per person and depend on group size and pick-up location.
*Daily Peninsula Hot Springs Tours with return transport and including guaranteed entry available every day.
*Hot Springs and winery lunch packages featuring lunch at The Cups Estate, Green Olive or Montalto then bathing at Peninsula Hot Springs with guaranteed entry also available every day.
*Return transport to summer and autumn horse racing meetings at Mornington, Sandown, Cranbourne and the picnic races at Balnarring – including Mornington Cup Day and the Australia Day picnic races at Balnarring.
*Our Beer, Cider and Spirits Trail Tour featuring cider, gin, beer, cheese, chocolate and rum running Fridays to Sundays.
*The unique Art, Wine and Chocolate Tour on Sundays when you get the chance to create your very own wine glasses as well as sample some incredible wine and chocolate.
*Half day wine tours also available on request (except Saturdays, long weekends and school holidays)
*Night time return transport and tours to the Phillip Island Penguin Parade or Phillip Island Small Group Tours.
Catering for small intimate groups of two to seven, we operate seven days a week both day and night and offer pick-ups from the Melbourne CBD, southern and eastern suburbs, Frankston Train Station and right across the Mornington Peninsula. We also pick-up from the inner northern suburbs near end of Eastern Freeway but not from outer northern suburbs or the western suburbs.
To book phone Paul on 0414 704 801 or email us at info@amourofthegrape.com.au.